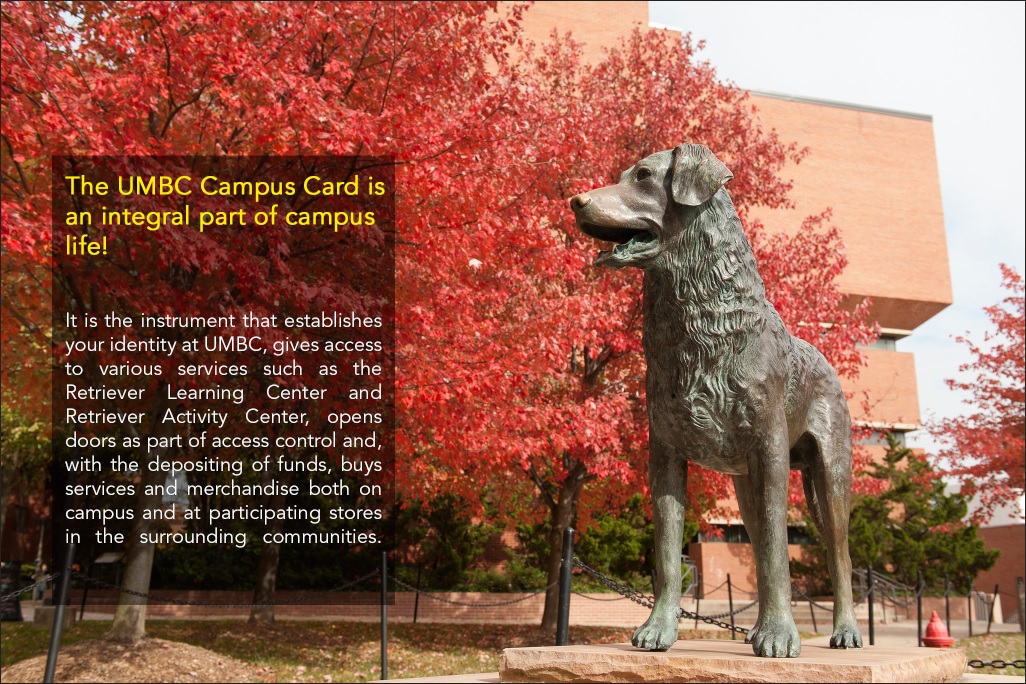 While UMBC Mail Services handles the postal needs of campus departments, individuals have access to United States Postal Service (USPS) mailing services and Federal Express (FedEx) shipping resources through the Campus Card Center. Sales are cashless with purchases made using the Campus Card. All USPS services, except money orders and passport photos are available.
Summer 2017 Hours of Operation
Our hours of operation for the summer (May 30 – August 16, 2017) will be as follows:
Campus Card counter operations – Monday thru Friday, 8:30am – 4:00pm
Mail Services counter operations – Monday thru Friday, 10:00am – 3:00pm

Orientation Students – Submit Your Campus Card Photo Online!
Make the most out of your orientation day and have your campus card ready for you to pick up! Send us your favorite photo and we'll pre-make your card and have it ready on the morning of your orientation. Submitting a photo is quick and easy, simply follow these steps after logging into your MyUMBC account:
Go to the Topics tab
Select Billing & Personal Finances
Select the Campus Card link
Go to Navigate
And select Photo Upload
You will be asked to read the Terms and Conditions of the campus card prior to accessing the upload form. After agreeing, review the photo guidelines and complete the photo upload form. Once finished, click submit. Only one photo may be submitted. Please allow 1-3 business days for photo processing. You will be notified via email when your photo has been approved or rejected. Please contact the UMBC Campus Card Center at 443-612-2273 with any questions or concerns regarding the upload process
---
Changes to Mail Pickup Times
Effective as of August 22, 2016, the last mail pickup occurs at 3:30pm daily (Mon-Fri). Mail received prior to 3:30pm will be postmarked and processed same-day. Mail received after 3:30pm will be postmarked and processed the next business day.
---
Important Changes to Block Meal Plans
Effective as of the Fall 2015 semester, "Students can change their block meal plan during the first two weeks of a semester (grace period). During this time, the processing fee will be waived. After the grace period, block plans are NOT refundable with the exception of changing to a recurring regular or Ultimate plan." Terms and Conditions for 2016-2017 can be viewed here.
---