The UMBC Campus Card is an integral part of campus life. It is the instrument that establishes your identity at UMBC, give access to various services such as the Library and RAC, opens doors as part of access control and, with the depositing of funds, buys services and merchandise both on campus and at participating stores in the surrounding communities. While UMBC Mail Services handles the postal needs of campus departments, individuals have access to United States Postal Service (USPS) mailing services and Federal Express (FedEx) shipping resources through the Campus Card Center. Sales are cashless with purchases made using the Campus Card. All USPS services, except money orders and passport photos are available.

What's New with Campus Card & Mail Services?
---
Enter to win a mens/ladies mountain bike!

Do you frequently use either of the two PepsiCo Dream Machine's located in the Community Center and Harbor Hall? Are you a cycling enthusiast looking for a new bike? We're giving away two brand new mountain bikes and entering the contest is easy! Check out this flier for more information!
---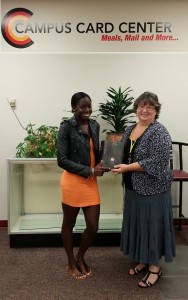 What do YOU know about composting at UMBC?
Thank you to everyone who participating in the 'What Do You Know About Composting at UMBC' survey. Congratulations to the winner of our survey, Funmi Daramola. Funmi has won a pair of Beats by Dre courtesy of the Campus Card Center.
The survey results will support research aiming to improve participation in and awareness of the composting program at UMBC
---
And the winner is…!
We would like to thank everybody that stopped by our table at the convocation picnic and entered the drawing to win the George Foreman indoor/outdoor grill. We would like to congratulate EMILY ESCOBEDO for being the winner of our drawing!! To claim your prize, please come down to our office with your student ID. We hope to see you soon!
---