The UMBC Campus Card is an integral part of campus life. It is the instrument that establishes your identity at UMBC, give access to various services such as the Library and RAC, opens doors as part of access control and, with the depositing of funds, buys services and merchandise both on campus and at participating stores in the surrounding communities. While UMBC Mail Services handles the postal needs of campus departments, individuals have access to United States Postal Service (USPS) mailing services and Federal Express (FedEx) shipping resources through the Campus Card Center. Sales are cashless with purchases made using the Campus Card. All USPS services, except money orders and passport photos are available.

What's New with Campus Card & Mail Services?
---
Temporary Hours of Operation
The Campus Card service window will close at 11:45am on Tuesday, April 15th. Mail Services window will operate at regularly scheduled hours (8:30am – 4:00pm). We apologize for any inconveniences this may cause.
---
Vending Machines in Physics Building
Two vending machines have been installed in the Physics building behind the door to the loading dock. There is a Pepsi machine as well as a snack machine in that location.
---
PepsiCo Dream Machine
Good news, students! Recycling at our campus Dream Machine kiosk(s) has never been easier. The PepsiCo Recycling program has transitioned to a 10 digit numerical PepsiCo Recycling Rewards ID. Go to www.PepsiCoRecycling.com to create an ID for a new or existing account. Next time you sign in to recycle at a kiosk, all you have to do is insert your Rewards ID to sign in. Lose the key fob but not the rewards!
---
End of Grace Period
The grace period for the Spring 2014 ends on Tuesday, February 10th. This means that all mandatory meal plan holders can no longer reduce their meal plans.
Voluntary meal plan holders may increase, decrease, or remove their meal plans, however reductions and removals of meal plans will incur a $35.00 processing fee.
No processing fee is applied for meal plan additions or increases.
---
New Cash-to-Card Machine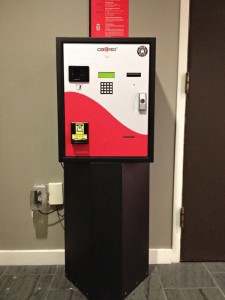 It may have a new look, but it has all the same functions and more.

Located in the Commons next to the ATM, you can use this machine to add money to your General Fund (Campus Cash/Retriever Dollars) and your Food Fund.

In addition to adding money to your accounts, you can also purchase guest cards and check your balances at the machine.