ALL STAMPS SHOWN ARE CURRENTLY IN STOCK
---
U.S. Flag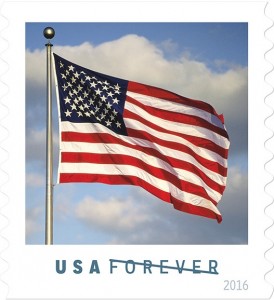 The American flag has long symbolized the strength and spirit of our nation. This U.S. Flag First-Class Mail® stamp features a detail of Emmanuel Faure's vivid photograph of a U.S. flag waving against the background of the sky.
On June 14, 1777, the Continental Congress passed the Flag Act, stating that the U.S. flag should consist of 13 alternating red and white stripes and 13 white stars in a blue field. In 1818, Congress passed legislation stipulating that the number of stars on the American flag should match the number of states in the Union. There are 13 stripes and 50 stars on the current flag.
"USPS.com." U.S. Flag. USPS, n.d. Web. 14 Jul. 2016.