Our snack and cold beverage vending items are affordably priced between $1.50 and $2.50. Please note, when using a credit or debit card at the vending machines, there will be a $2.50 charge posted to your personal credit/debit account statement. Once the transaction settles, the proper price will be posted to your personal credit/debit account statement.
---
Smart Market Vending in ITE Building!
Located conveniently inside the ITE Building, the new Smart Market vending area boasts a wide variety of snacks and beverages. Snack options include health-conscience foods such as salads, legumes, and protein bars as well as favorite and traditional snacks like chips and candy. Need more than just a snack? Smart Market vending has you covered with an assortment of ready-to-go sandwiches, including breakfast sandwiches and Hot Pockets! In addition to a plethora of food items to choose from, Smart Market vending also includes bottled drinks such as sodas, teas, and water. An assortment of hot and fresh coffees are available, too! All items are easily accessible and may be purchased with cash, credit card, or Retriever Dollars.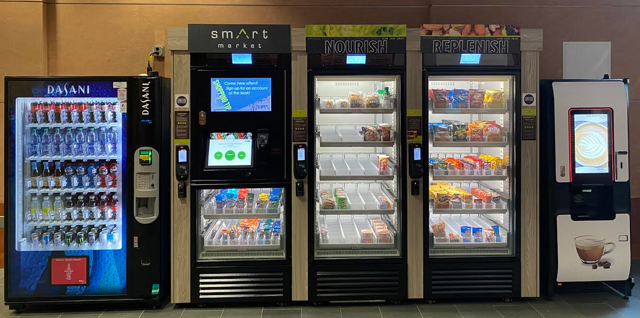 ---
Vending machines offering whole-foods and smarter snacks are branded with the enr-G logo.
Check out these vending machines for competitively-priced healthier snack alternatives:
University Center – ground floor
Retriever Activity Center (RAC)
Library – RLC
Math/Psychology Building
Sondheim Building
---
Coca-Cola Beverage and Canteen vending machines offering low-calorie beverages are conveniently located:
Administration Building
Biology Building
Chesapeake Dorm
Community Center
2nd Floor Commons Building
ECS
Erickson Dorm
Harbor Hall Dorm
ITE
Library
Math/Psych Building
Patapsco Dorm
Performing Arts & Humanities
Physical Plant
Physics Building (loading dock area)
Potomac Dorm
Public Policy
RAC
South Campus Building
Sondheim Building
Susquehanna Dorm
TRC
University Center
Walker Avenue Apartments
---
Submit your vending questions, concerns and/or refund requests here, or call the Campus Card & Mail Services office at 443-612-2273.
---