Temporary Hours of Operation
UMBC is open; the physical campus is closed, however, courses are now online and employees are working remotely. During this time, Mail Services is open on Tuesdays and Thursdays from 8AM – 12PM. Courier services are currently unchanged. Questions and/or concerns may be directed to the Campus Card Center at 443-612-2273 or submit an inquiry by clicking here.

---
Retriever Card Distribution for Fall 2020
As the physical UMBC campus remains closed, Orientation programs will be held remotely rather than on campus, and the Campus Card Center continues to discuss alternative methods of Retriever Card distribution for new students, faculty, and staff. In order to maintain social distancing standards, we strongly recommend that new members of the UMBC community submit their Retriever Card photo online. More details on how to submit your photo can be found here. Please continue to check our website for the most up-to-date information regarding the distribution of your Retriever Card. You may use this link to contact us with any questions or concerns regarding your Retriever Card. Thank you for your patience as we work to find a health-conscience solution while continuing to meet the security guidelines required for the issuance and distribution of a Retriever Card through our office.


---
New Campus ID Cards Available Now!
The new UMBC campus card features a black and gold theme with the Athletics Retriever logo prominently displayed on the front and important contact information and resources included on the back. This is the first campus card redesign in more than a decade, and we are excited to have a new design that reflects our school spirit and pride! All UMBC community members currently in possession of a 'red card' (old Campus ID) are encouraged to visit the Campus Card Card center to exchange their cards. The Campus Card Center is located in the University Center, room 112. Our hours are Monday-Friday, 8:30AM – 4:00PM. Questions and/or concerns may be directed to the Campus Card Center at 443-612-2273 or submit an inquiry by clicking here.
Check out the Campus Card Exchange FAQs here!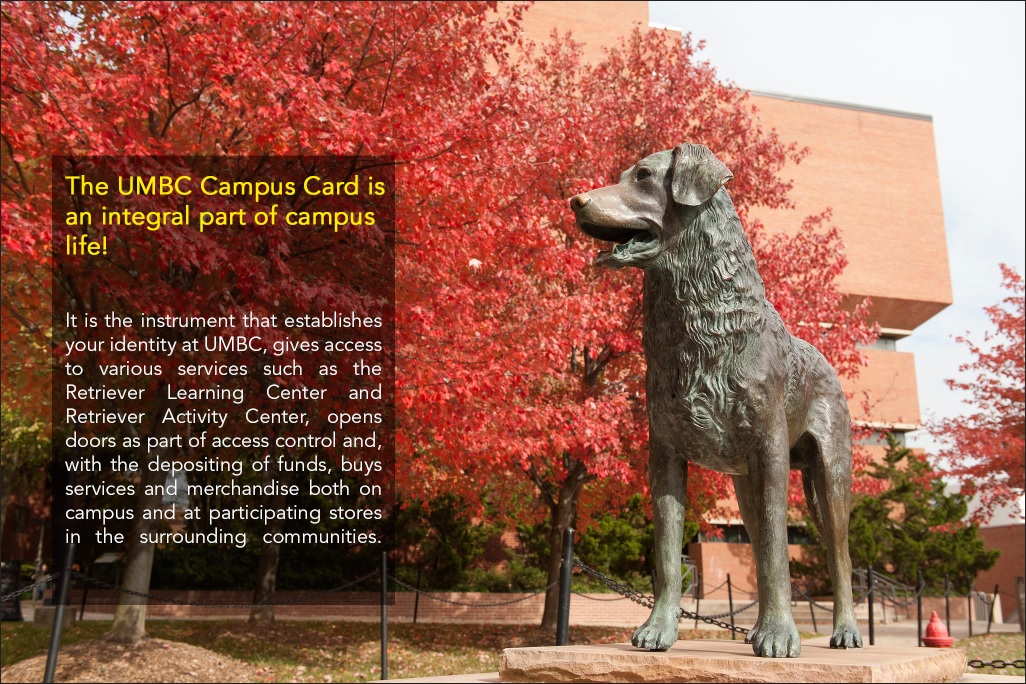 While UMBC Mail Services handles the postal needs of campus departments, individuals have access to United States Postal Service (USPS) mailing services and Federal Express (FedEx) shipping resources through the Campus Card Center. Sales are cashless with purchases made using the Campus Card. All USPS services, except money orders and passport photos are available.