Hours of Operation Effective as of Tuesday, January 26th, 2021
UMBC is open; the physical campus is closed, however, courses are now online and most employees are working remotely. Please review our hours of operation for the Spring 2021 semester:
Campus Card Operations (Campus Card Issuance): In order to meet social distancing guidelines as set forth by UMBC, CDC, OSHA, as well as local and state authorities, all students, faculty, and staff who are approved for campus access during the Spring 2021 semester must schedule an appointment to receive their Campus Card. All photos must be submitted through our online photo upload portal. Additional instructions on uploading a photo can be found here.
Please use this link to schedule an appointment to obtain your UMBC Campus Card.
As a reminder, all students, faculty, and staff will need to first upload a photo for their Campus Card. Please note, a form of valid (non-expired), government-issued photo ID, such as a driver's license or passport, will be required in order to receive your Campus Card.
Please visit our Support page to submit any questions or concerns regarding uploading a photo and/or obtaining your Campus Card.
Campus Card Operations (Meal Plans & DCARD): Closed for all in-person services. Please
visit our Support page to contact us with any questions or concerns relating to Meal Plans
and/or DCARD.
Personal Mail Services (Over-the-counter purchase of postage/stamps): Monday – Friday, 10AM – 2PM.
Departmental Mail Services (Mail pickup/drop-off for departmental functions): Tuesday, Wednesday, and Thursday, 8:00AM – 12:00PM.
Questions and/or concerns may be directed to the Campus Card Center at 443-612-2273 or submit an inquiry by clicking here.
---

Smart Market Vending in ITE Building!
Located conveniently inside the ITE Building, the new Smart Market vending area boasts a wide variety of snacks and beverages. Snack options include health-conscience foods such as salads, legumes, and protein bars as well as favorite and traditional snacks like chips and candy. Need more than just a snack? Smart Market vending has you covered with an assortment of ready-to-go sandwiches, including breakfast sandwiches and Hot Pockets! In addition to a plethora of food items to choose from, Smart Market vending also includes bottled drinks such as sodas, teas, and water. An assortment of hot and fresh coffees are available, too! All items are easily accessible and may be purchased with cash, credit card, or Retriever Dollars.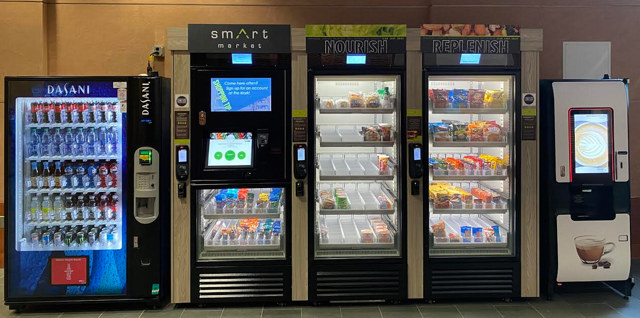 ---