---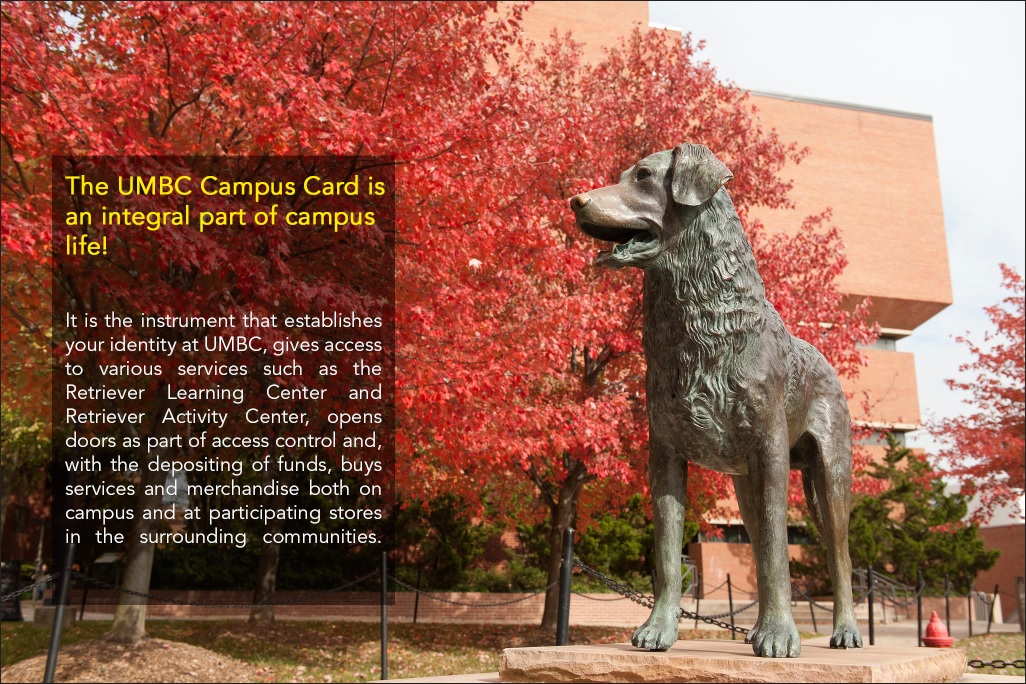 Information
In addition to being the official photo ID of UMBC, your Campus Card is also your meal, library, gym, and transit card. Your card can provide access into swipe controlled buildings, labs, and rooms across campus. Money deposited onto your Campus Card can be used most locations on campus including vending machines and pay-for-print stations and select locations in the surrounding Catonsville/Arbutus area.


Please click here to review the Campus Card Terms and Conditions for specific information regarding the management of your UMBC Campus Card account.
Obtaining a Card
In order to meet social distancing guidelines as set forth by UMBC, CDC, OSHA, as well as local and state authorities, all students, faculty, and staff who are approved for campus access must schedule an appointment to receive their Campus Card. All photos must be submitted through our online photo upload portal. Additional instructions on uploading a photo can be found here.
As a reminder, all students, faculty, and staff will need to first upload a photo for their Campus Card. Please note, a form of valid (non-expired), government-issued photo ID, such as a driver's license or passport, will be required in order to receive your Campus Card.
Please visit our Support page to submit any questions or concerns regarding uploading a photo and/or obtaining your Campus Card.
In order to release a UMBC Campus Card to any person, a form of valid (non-expired), government-issued photo ID must be presented. Please note, you must have the original document in hand – photocopies and electronic photos of an ID are not accepted. The card will only be released to the designated cardholder – family or friends may not pick up the card for you. The following are the various, acceptable forms of government-issued photo ID:
– Drivers license (domestic or foreign)
– Identification Card (domestic or foreign)
– Passport or passport card
– Employment Authorization Card
– Permanent Resident Card
– Military or Dependent ID
– Birth Certificate and any form of photo ID
All questions or concerns pertaining to your Campus Card should be submitted to the Campus Card Center online, or by phone at 443-612-2273.

Shady Grove students are also eligible to receive a UMBC Campus Card. Please refer to the instructions here for more information.
Replacements
Replacements for lost, stolen, and damaged cards can be obtained from our office – cards cannot be mailed or released to anyone other than the cardholder. Additionally, you must have a form of valid, government-issued photo ID for any replacements.

The replacement fees for lost and/or stolen cards is $20 paid at the office Retriever Dollars (money on Campus Card) or E-Bill. Damaged cards are replaced at no charge at the discretion of Campus Card & Mail Services staff.
Making Deposits
Deposits can be made to your card both online and in person. Click here to add funds to your Campus Card with any valid American Express, Mastercard, Visa, or Discover credit card. The minimum deposit amount is $10 and for each deposit there is a 2.75% convenience fee. You may also access your account to make a deposit through your myUMBC profile.

The following departments can also add cash to your card:
Commons Information Center (CIC) – Commons Building, main floor
Bursar's Office – Administration Building, 3rd Floor

For additional questions or concerns regarding the UMBC Campus Card, please click here.
Helpful Hints
You have 24-hour access to view your Campus Card account online. You can view your transaction history, account balances, manage deposits, and even mark your card as lost if you misplace it.
Keeping your card in your wallet or in a card holder can help to protect against damages.
Lots of local businesses will offer a discount simply by showing your UMBC ID.